Anton Bruckner is considered one of the most important composers today. His sacred works and his symphonies in particular are frequently performed.
But Bruckner had to wait a long time for this recognition: only on December 30, 1884 did he receive the reward for 40 years of hard work.
For Bruckner's career was anything but meteoric. Instead, Bruckner had to take many small steps. He thus belongs to the composer-career type "tin soldier":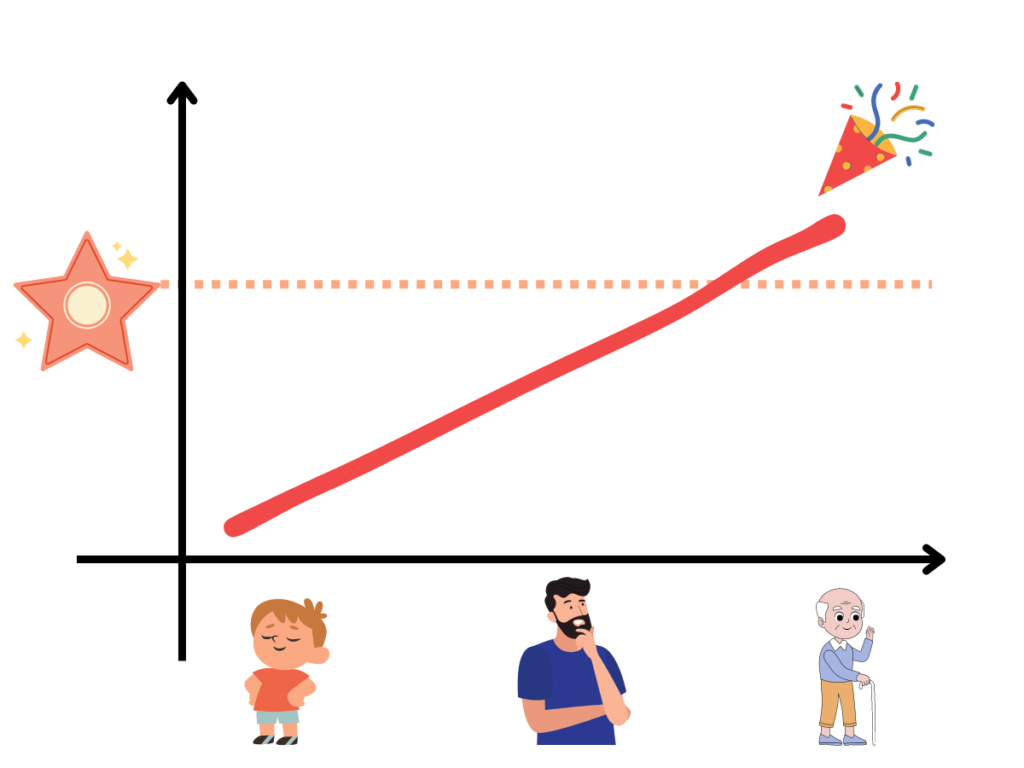 By the way, there are several such "tin soldiers" among classical composers. I select Bruckner here only as one example among many. Typical for the "tin soldiers" is that at the end a single piece provides the breakthrough.
In Bruckner's case, this piece was premiered on December 30, 1884. But it was a long way until then…
…which also has to do with the fact that safety always came first for Bruckner. He was insecure – especially about his own abilities. Before he took a risk, he preferred to secure himself again (and again)… for example by even more private lessons or by taking a secure job.
Accordingly, it took a long time until Bruckner devoted himself mainly to composing. I define this time as the moment when he finished his 1st symphony. Unlike many other composers (and especially unlike the "whiz kids"), he did not do this at a young age. No. Instead, he….
...became a teacher first.
Bruckner's father had already been a teacher, so the profession had a tradition in the family. Bruckner began his teaching career in a tiny community in Upper Austria.
After conflicts with his superiors (Bruckner devoted too much time to music) and a change of job, however, it became increasingly clear: Bruckner wanted to become a professional musician.
Therefore, he took private lessons in Vienna with a then very well-known teacher, Simon Sechter. Sechter had already taught Franz Schubert.
Now don't forget that Bruckner was already 31 years old at this time. Compare this with the typical "whiz kids": Mendelssohn was already a composer and conductor of international stature at this age. And Mozart, yes, Mozart… was already almost dead.
But even this further education was not enough for Bruckner. He still felt insecure. So there followed…
With Otto Kitzler (the conductor at the Linz Theater at the time), Bruckner studied the music of Berlioz, Liszt, Wagner, Beethoven, Schumann and Mendelssohn. Only then did he finally feel ready to take an exam….
…which he did with such bravura that one jury member later said, "He should have tested us!" 😊
Professional musician! Bruckner writes his 1st symphony
So now Bruckner was formally qualified enough to call himself a "professional" (which was probably most important to himself). He now composed his 1st symphony and was at this time 41 years old.
For comparison: Joseph Haydn (the grandmaster of the symphony) wrote his 1st symphony at the age of 25. Mendelssohn at 15, Mozart at 9.
The premiere of Bruckner's 1st Symphony on May 9, 1868 was a respectable success – but nothing more. It would still take almost 20 years until Bruckner's breakthrough on December 30, 1884. During these 20 years, Bruckner did one thing above all, namely…
And that is just the quality of the "tin soldiers". They just keep going, completely independent of negative feedback or setbacks. Whether Bruckner's strict faith was also helpful – I don't know. In any case: Bruckner would have had enough reasons to stop composing again.
Just look at his other symphonies: Only the fourth was successful. The others, however… Oh dear.
Bruckner's second symphony was very badly received by the public.
The third was a complete failure.
And Symphonies No. 5 and 6 were not even performed.
Not a great record, is it?
But, as I said, Bruckner kept going (and going). And then the great day came: December 30, 1884.
Breakthrough in Leipzig! The premiere of the 7th Symphony
With the premiere of his 7th Symphony, Bruckner finally achieved his breakthrough. He was 60 (!) years old.
Why now of all times? Hard to say. Of course, Bruckner's Seventh is a fabulous work. But that is also true for the other Bruckner symphonies. Perhaps the city (Bruckner was affected by less intrigue in Leipzig than in Vienna) and the premiere conductor (Arthur Nikisch gave introductory lectures on the work) also had a positive influence.
If you want to know more about this great piece of music, you can learn about Bruckner's 7th Symphony here (with the 5-4-3-2-1 method).
In any case, from that moment on, Bruckner received the recognition, honors and awards that he should have deserved long ago.
I hope you enjoyed this glimpse into the career of a "tin soldier". As you know from the first part of this mini-experience, there is also another type of composer – the "roller coaster riders". You'll get to know one of them in Part 3….