Boston Symphony Hall is very popular among concertgoers, orchestra musicians and conductors because of its excellent acoustics. A very young physicist, Wallace Clement Sabine, was responsible for this when Boston Symphony Hall was built in 1900.
What you will read in this article:
Boston Symphony Hall: science-based to the best acoustics
Wallace Clement Sabine never went on to earn his doctorate. He was diligent, no question about it. Anyone who graduates from Ohio State University with a degree in physics at the age of 18 must be a diligent physicist. But quality was obviously always more important to Wallace Clement Sabine than quantity, because his scientific publications were not numerous, but always brilliant.
It so happened that Sabine was appointed as a physics professor at Harvard University even without a doctorate. In 1895, Harvard University opened its own art museum, the Fogg Art Museum. But there was a problem: the museum was acoustically unusable because extreme reverberation made visiting the museum a pain.
Enter Wallace Clement Sabine: at the age of just 27, the American physicist repaired the defective museum acoustics and in the process discovered the physical principles of reverberation time. Good room acoustics – suddenly they could be planned and calculated.
From that point on, Sabine's reputation preceded him. In 1900, Boston needed a new concert hall, because the old Boston Music Hall had to make way for the numerous new street and subway buildings in the expanding city. That was the birth of Boston Symphony Hall. Responsible for the acoustics: Wallace Clement Sabine.
The famous models of Boston Symphony Hall
Sabine based the acoustic design of the new concert hall on famous European models. He was particularly taken with the Leipzig Gewandhaus. But the Vienna Musikverein and the Amsterdam Concertgebouw were also known for their excellent acoustics.
The reason for this is the "shoebox principle": the sum of room height and room width gives the room length. This simple construction principle ensures – oh wonder – excellent acoustics to this day. That is why the shoebox principle was used again and again, not only for Boston Symphony Hall, but also for later concert hall buildings.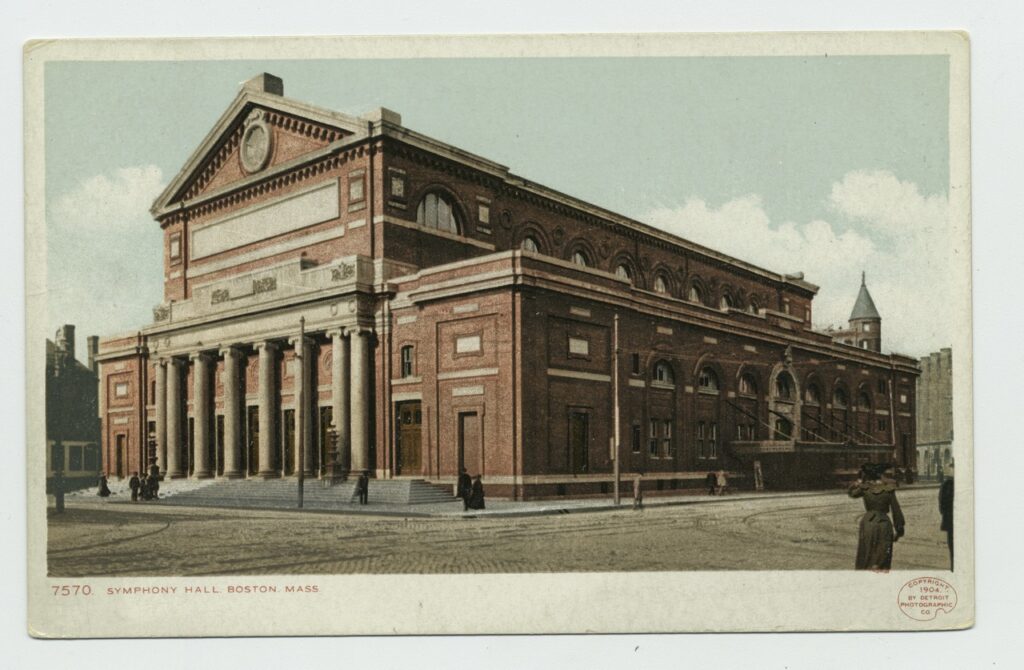 World class acoustics from the very beginning
The acoustics Sabine designed were a resounding success immediately upon the completion of the new concert hall in 1900. Since then, the Boston Symphony Orchestra, one of the finest orchestras in the world, has performed in this concert hall. World-class conductors and soloists are always happy to come to Boston Symphony Hall, which remains one of the world's best concert halls in terms of acoustics.
And what became of Wallace Clement Sabine? He died much too early at the age of only 50. His findings on room acoustics are still the basis for the successful construction of concert halls today.